English Page: Save Rehabilitation Expenses
・Español→Ahorre gastos de rehabilitación
Instagram(English Version)
 →https://www.instagram.com/renato46en/
YouTube(English Version)
→Playlists : "Easiest Rehabilitation"
We're seeing more and more cases of people who find it hard to move due to advanced age and illness as well as families having to provide nursing care.
To prevent these families from falling apart, our friend Renato will introduce simple rehab exercises anyone can do and demonstrate them with his family.
These exercises are comfortable and enjoyable, and will help you move more easily, making it possible for you to keep practicing them. This is the 1st~3rd edition in a picture book-style series on these magical rehab exercises.
There are two key points for improving movement:
① If you're not able to move, add something to assist you until you can
② Remove anything preventing movement
In addition, these methods are safe and easy to do, so family members who aren't rehab professionals can do them, too (so can caretakers and nurses).
Furthermore, we're rehabbing factors that are common to everyone, regardless of age, gender, body type, or type of illness (of course, there are some exceptions).
Part1: Stabilizing the Core of the Body(Example→ Amazon UK)
Can you move without using the strength of your abdominal muscles?
If the abs at the core of the body don't constrict, the earthling body loses stability, making it harder to move.
Part2: Making a Foundation for the Body(Example→ Amazon USA)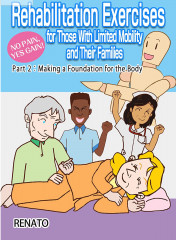 Big muscles take big work.
The muscles around the buttocks not only improve movement, but are extremely important for preventing falls, acting as a cushion to prevent major injury due to falls on the behind, as well as preventing bed sores around the buttocks.
If these essential muscles become thin, it can lead to major problems.
In Part 2, we will look at safe and easy ways to help the muscles around the buttocks which serve such an important role.
Part3: Making a Pillar for the Body and Fixing Leaning Postures(Example→ Amazon AUSTRALIA)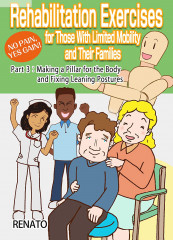 If the muscles on one side of the waist are weak, the upper body will tend to lean to one side and it becomes difficult to sit, so the patient become unstable if they move.
Returning the upper body to the center and making movement easier and more comfortable will increase the amount of things you can do in life.
Part4: Currently writing